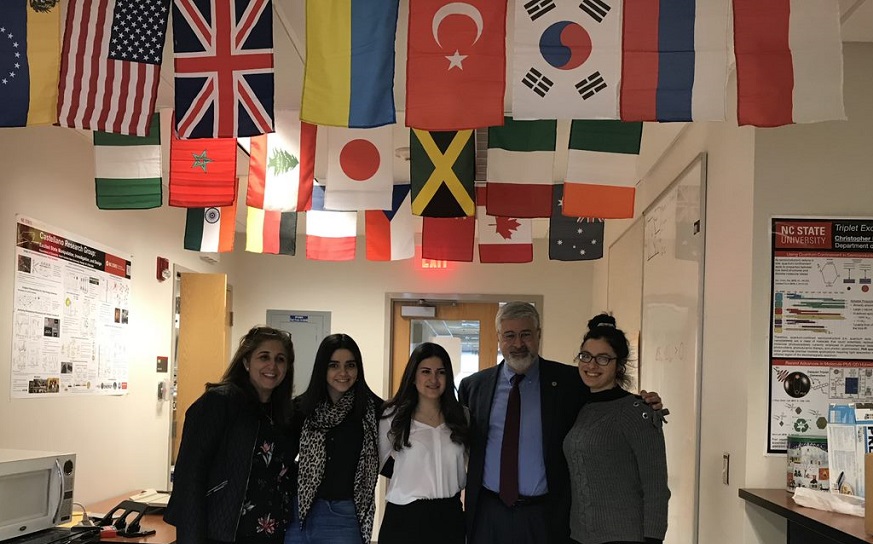 THE BEIRUT-RALEIGH RESEARCH CORRIDOR
April 8, 2019
There isn't a direct flight between Beirut and Raleigh, North Carolina—at least not yet. If it were up to Remi Fayad (BS '10, MS '14), there would be! She is one of three AUB alumnae who are currently pursuing PhD degrees in chemistry at NC State. Remi, Hala Atallah (MS '17), and Nancy Awwad (BS '14) are all members of the Castellano Research Group, which is renowned for its work in photochemistry (chemistry powered by light)—research that informs many technologies including solar energy conversion. The group is led by Goodnight Innovation Distinguished Chair Felix N. Castellano. During his recent visit to NC State, President Fadlo R. Khuri stopped by the lab and met Remi, Hala, Nancy, Professor Castellano, and also Professor Ghada Rabah (BS '90) who is a teaching associate professor at NC State. The original connection between AUB and Professor Castellano's lab was established by AUB Professor Bilal Kaafarani and dates back to 1998.
Although Remi, Hala, and Nancy have all ended up in the same research group at NC State, they traveled very different paths to get there. Remi took the longest route. After finishing her master's degree, she worked as an instructor/research assistant for Professor Tarek Ghaddar. Some of the research she worked on for her master's degree, under the supervision of Professor Lara Halaoui, on the effect of light localization in nanostructured materials for solar energy conversion and water splitting, was disseminated in two published papers. Despite strong encouragement from Halaoui, Remi was reluctant to apply to PhD programs in the US. "I don't regret it now," she says, "but the thought of leaving Lebanon and my family for five years was not easy for me."
When Remi arrived in North Carolina in August 2017, she reconnected with Nancy, who had been a student in one of the chemistry labs she taught at AUB. Nancy worked briefly in AUB Professor Antoine Ghauch's lab before coming to NC State. She is now doing research on photon-initiated polymerization for 3D printing and microfabrication.
For a brief moment, there were actually four AUB alumni working in the Castellano Research Group. Dr. Karim El Roz (BS '12) completed his PhD at NC State at about the same time that Remi and Hala arrived. Karim credits his father, Adnan Ruzz, a senior technician at AUB's Department of Chemistry, for his passion for science. Before joining NC State as a PhD student, he was conducting research at AUB in Professor Bilal Kaafarani's laboratory. Karim's doctoral dissertation focused on using photochemistry and photophysics to mechanistically understand water splitting reactions that produce hydrogen gas, a combustible fuel and precious high-energy chemical feedstock. He is currently finishing up an 18-month postdoc at USC with Professor Mark E. Thompson and will be moving to Chandler, Arizona this summer to work at Intel as a process engineer.
Although Hala did not know any of the AUB alumni at NC State well, her brother Nabil (BS '13, MS '15) was already at Duke University doing his PhD in computational mechanics when she was applying for doctoral programs. "He encouraged me to come," she says. Like Remi, she too co-authored papers while at AUB. Hala's current focus is synthesizing Re(I) diimine dicarbonyl complexes, a class of molecules that have interesting photochemical and photophysical properties. She is hoping to return to Lebanon after she completes her doctorate.
"Meeting our alumni around the world—people like Remi, Hala, and Nancy—is one of the highlights of my trips wherever I go," said Khuri. "It's always interesting. It's also a powerful reminder of the impact that our alumni are having wherever they live and work."