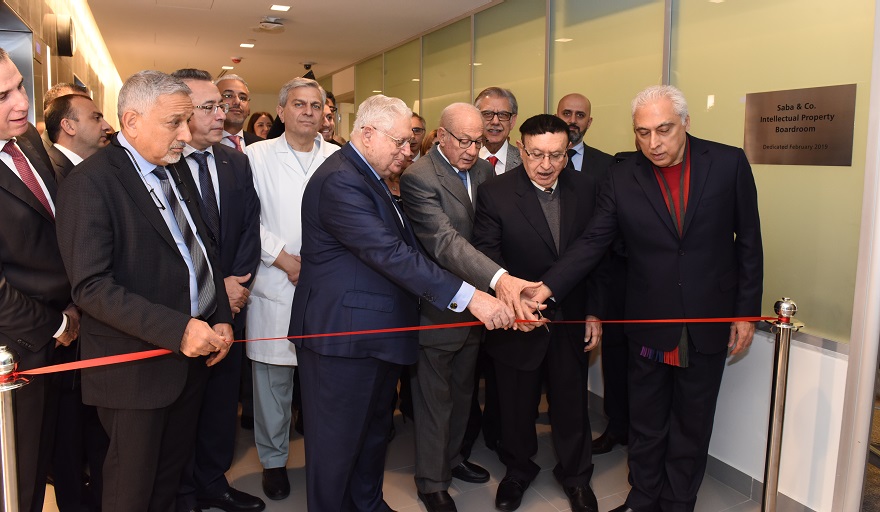 AUBMC DEDICATES SABA & CO. INTELLECTUAL PROPERTY BOARDROOM IN DANIEL ACC BUILDING
The American University of Beirut Medical Center (AUBMC) held a dedication ceremony on February 7, 2019 for the Saba & Co. Intellectual Property Boardroom at the Halim and Aida Daniel Academic and Clinical Center (Daniel ACC). The state-of-the-art board room houses top-notch meeting facilities and is used to hold meetings, trainings, or conferences.
The dedication ceremony was attended by Dr. Mohamed H. Sayegh, Executive Vice President for Medicine and Global Strategy and Raja N. Khuri Dean of the Faculty of Medicine at AUB, Dr. Ziyad Ghazzal, Deputy Executive Vice President, Dean and Interim Medical Center Director, AUBMC leadership, a delegation from Saba & Co. IP, dignitaries, and friends.
Dr. Mohamed H. Sayegh welcomed the guests and said, "Our donors for today have been for so long aware of their social responsibility and have for long been open to multiple perspectives and myriad new ideas that best match the welfare of our community. They are a group of AUB graduates who founded Saba & Co. Intellectual Property to give back to their institution. Their presence amongst us mirrors their continuous engagement in supporting healthcare and the betterment of human kind."
Saba & Co. IP Chairman, Mr. George Ghali commented, "AUB was founded on a core conviction that ideas, their development, and their transmission are what is ultimately most important. Daniel Bliss, the founder of our Alma Mater, once said that they were not anxious to appear great but to lay the foundations upon which greatness could be built."
To sum it up, Mr. Ghali added, "And received these foundations we did: in our classrooms, in discussions with our peers and mentors, and at campus events. We learned the value of hard work and having an unshakable work ethic. We learned how to be self-dependent and still work alongside others. We learned how to be men; responsible men with a vision and a mission to have life and have it more abundantly."
Saba & Co. Intellectual Property, founded in 1926, is active in all areas of prosecution, registration, enforcement of intellectual property rights, and provides a full range of related legal and paralegal services. The firm operates through an extensive network of branch and representative offices across the Middle East, Africa, and neighboring regions, with a reputation of a leading service provider.
This inauguration comes as part of AUBMC's 2020 Vision to build partnerships, seek advancements, and provide patients with best state-of-the-art and compassionate patient care.
Back to Events