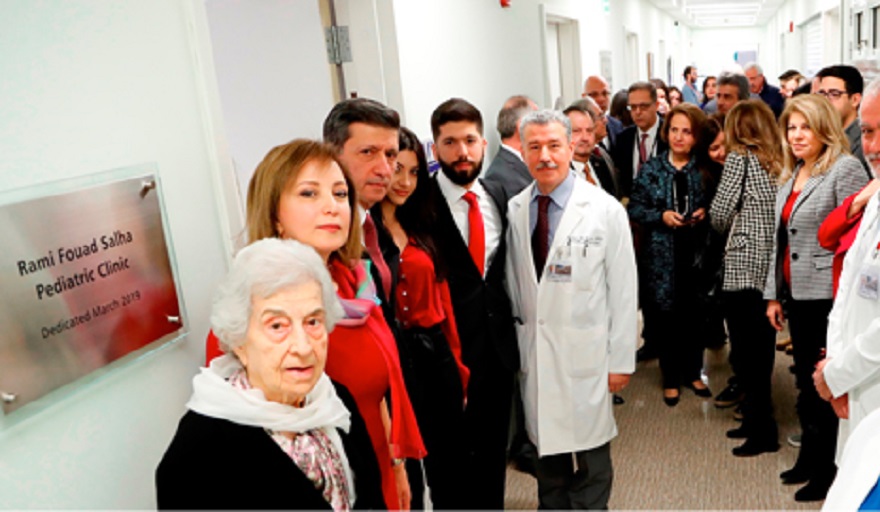 AUBMC HOLDS DEDICATION CEREMONY FOR RAMI FOUAD SALHA PEDIATRIC CLINIC
The American University of Beirut Medical Center (AUBMC) held a dedication ceremony on March 14, 2019 for the Rami Fouad Salha Pediatric Clinic at the Wassef and Souad Sawwaf Building. The Rami Fouad Salha Pediatric Clinic is the first pediatric unit to be dedicated and is equipped with the latest, state-of-the-art equipment and facilities.
The dedication ceremony was attended by the Executive Director, External Medical Affairs and Director of the Children's Heart Center at AUBMC, Dr. Fadi Bitar representing Executive Vice President for Medicine and Global Strategy and Raja N. Khuri Dean of the Faculty of Medicine at AUB, Dr. Mohamed H. Sayegh, Associate Professor of Clinical Pediatrics and Inborn Errors of Metabolism, Dr. Pascale Karam, Chairman, Department of Pediatrics and Adolescent Medicine, Dr. Miguel Abboud, Dr. Ghassan Awar, the Salha family, dignitaries and friends.
Dr. Pascale Karam welcomed the guests and thanked the Salha family for their philanthropic dedication and commitment to AUBMC. "I thank the Salha family for their contribution especially Mrs. Diaa Salha whose unyielding determination and perseverance for the past 22 years has improved her son's condition and helped other children with metabolic diseases by supporting the Inherited Metabolic Diseases Program Research," she said. "The Inherited Metabolic Diseases Program Research focuses on delivering advanced clinical and diagnostic services for children and adults affected by the inborn of metabolism through providing complete diagnostic evaluations, testing, interpretation of test results, and long-term medical and nutritional management," Dr. Karam added.
Dr. Fadi Bitar thanked the Salha Family for their generous contribution and Dr. Karam for her relentless efforts in establishing the Inherited Metabolic Diseases Program Research. "This support to the Inherited Metabolic Diseases Program and Research comes hand in hand with Dr. Sayegh's 2020 Vision to raise the level of healthcare in Lebanon and the region," he commented.
Mr. Emile Salha, Rami's brother, gave an emotional speech on his brother's journey and battle with metabolic disease. He thanked AUB for the education of three generations of the Salha and Awar family and thanked AUBMC's care and treatment of his brother. "This dedication comes as a tribute and support to Dr. Pascale Karam for all her efforts in the treatment and care of Rami and as a support for her research in the field of inherited disease. Hopefully, we will have a success story to tell you one day," he said.
Dr. Ghassan Awar, in his return, thanked AUBMC for the outstanding medical support it has provided to Rami who was born with a rare inherited metabolic disease that needed long term care and follow up. "Without your effort and utmost care, Rami's journey wouldn't have been that easy", he said.
Back to Events