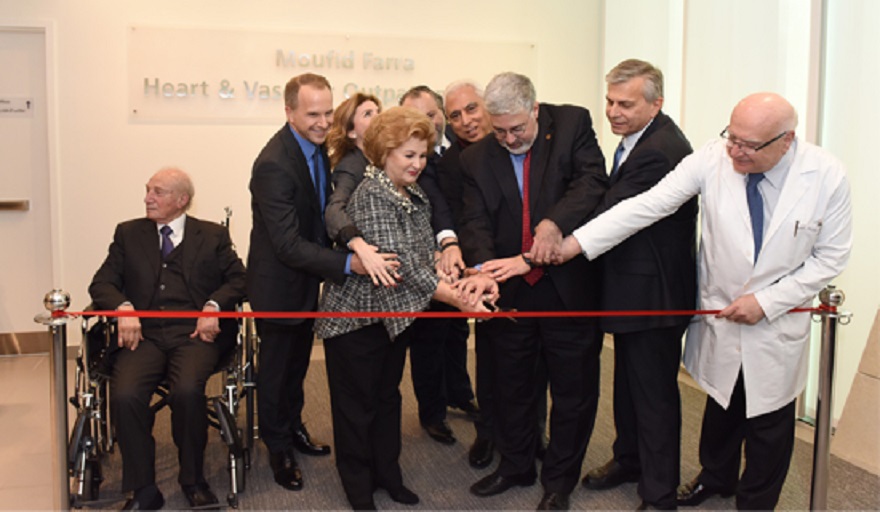 AUBMC INAUGURATES THE MOUFID FARRA HEART AND VASCULAR OUTPATIENT CENTER
Following its 2020 Vision, the American University of Beirut Medical Center (AUBMC) inaugurated the Moufid Farra Heart and Vascular Outpatient Center at the Daniel ACC building in a dedication ceremony that was held in the Center. The new center aims to optimize cardiovascular healthcare delivery in Lebanon and the region by applying best practices, patient-centered quality care, and cutting-edge research and education.
The dedication ceremony was attended by Dr. Ziad Ghazzal, Deputy Executive Vice President, Dean and Interim Medical Center Director, Founding Director of the Moufid Farra Heart and Vascular Outpatient Center and Director of the Heart and Vascular Institute, Dr. Mohamed H. Sayegh, Executive Vice President for Medicine and Global Strategy, and Raja N. Khuri Dean of the Faculty of Medicine at AUB, Dr. Fadlo Khuri, AUB President, AUB and AUBMC leadership, the Farra family, dignitaries, and friends.
"The Moufid Farra Heart and Vascular Outpatient Center reflects on our commitment to bring to Lebanon and the wider regional markets the latest medical solutions," said Dr. Ghazzal. "The Center is set to deliver the most advanced and comprehensive cardiovascular care services in the region through its state-of-the-art equipment. It will provide heart and vascular outpatients with the opportunity to receive the most advanced treatments in the country rather than having to do so abroad," added Dr. Ghazzal.
Dr. Fadlo Khuri said, "The Center represents a vision that has materialized through unremitting collaboration with unstinting partners. We are honored and privileged to have partners such as yourselves who are committed to education and healthcare at this university for the service of Lebanon, the region, and its people."
On behalf of the Farra family, Mr. Hazem Farra said, "His legacy will remain not by a name on a wall but by the way he lived his life, by the biggest asset he relinquished to his heirs, his name, and his reputation. We are honored to carry his torch to the opening of the heart floor in the name of Moufid Farra, a man with a big heart, a man with a heart of gold, a man that touched and won so many hearts. Forever in our mind; forever in our heart. May you rest in peace Father."
Professor Samir E. Alam, Chief of Staff and Professor of Medicine at AUB said, "Heart failure represents a major health and economic burden on the Lebanese, regional and global societies. The Moufid Farra Heart and Vascular Outpatient Center will open the door to providing developed and more comprehensive heart and vascular care services, leveraging its various units comprising the current structure of cardiology, cardiothoracic surgery, vascular surgery, nephrology, and hypertension."
The Moufid Farra Heart and Vascular Outpatient Center services will be based on a patient-centered care environment that applies best healthcare practices.These practices will help AUBMC reach superior quality of services, outcome measures, and operational efficiency that will influence healthcare policy locally and regionally. The center aims for high training standards and advanced education; it will promote cardiovascular research in addition to translation and application of knowledge and a robust database for patients with cardiovascular disease.
Back to Events