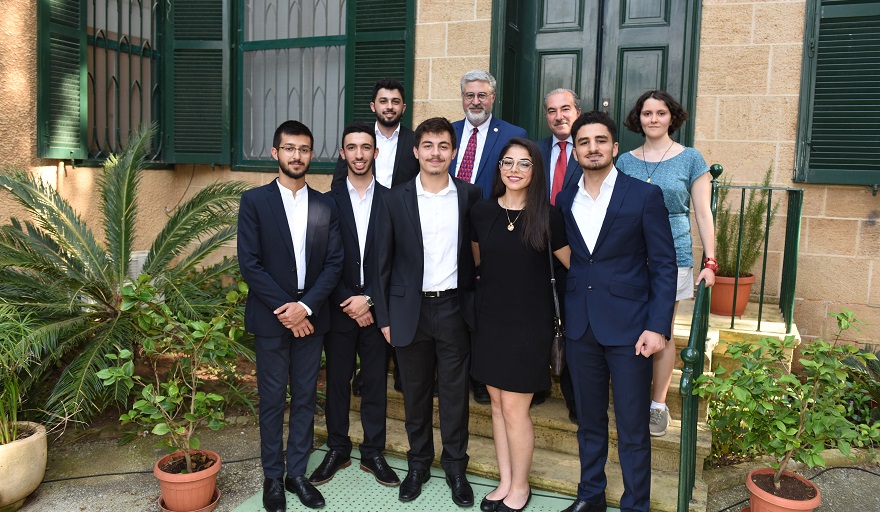 CLASS OF 2019 COMES TOGETHER TO SUPPORT FINGERPRINTS ENDOWED SCHOLARSHIP FUND
There were lots of smiles, cake, and words of appreciation from AUB President Fadlo R. Khuri, VP Imad B. Baalbaki, and graduating students Alexandra Abi Nassif and Levon Souvalian on Friday afternoon, May 24. The occasion was the annual Fingerprints reception celebrating the graduating students who made donations to the Fingerprints Endowed Scholarship Fund this year.
In his remarks, Khuri commended students for their generous contributions noting, "I can't think of a better example of the power of philanthropy than Fingerprints." He then announced that almost 60 percent of the Class of 2019 had contributed around $23,000 to Fingerprints in 2019. Khuri commented that one of the highlights of Fingerprints 2019 was the record support from the USFC, which will match every dollar raised by graduating students 2.5 to 1. Fingerprints will also benefit from a generous two-for-one match by an AUB t​rustee, who has made a three-year commitment to match student donations to Fingerprints. ​​
VP Imad B. Baalbaki, who launched Fingerprints in 2002, reflected on the history of this student-led fundraising campaign remembering that when he first proposed the idea 17 years ago, some colleagues were skeptical that a scholarship initiative primarily championed by students could be successful. "It is hard to believe that this fund that has already generated more than $660,000 and provided scholarships for 284 students began with one $25 donation," said Baalbaki. He thanked Fingerprints Student Ambassador Kamel Wehbe and USFC VP Ali Zayour, along with their dedicated team, for their tireless efforts on behalf of Fingerprints this year. "We couldn't have done it without you. Thank you!"
Fingerprints recipient and biology major Abi Nassif spoke eloquently about her experience at AUB and how much she appreciated being at a place where she was able to learn not just about "the environment and animals and bacteria," but also "feminism, psychology, poetry, screenwriting, philosophy, and theater." Souvalian, who is graduating with a degree in chemistry, talked about how much it had meant to him to be a member of the Fingerprints "family." Both Souvalian and Abi Nassif have wasted no time giving back. They were among the 711 students who left their fingerprints at AUB this spring semester.
Back to Events