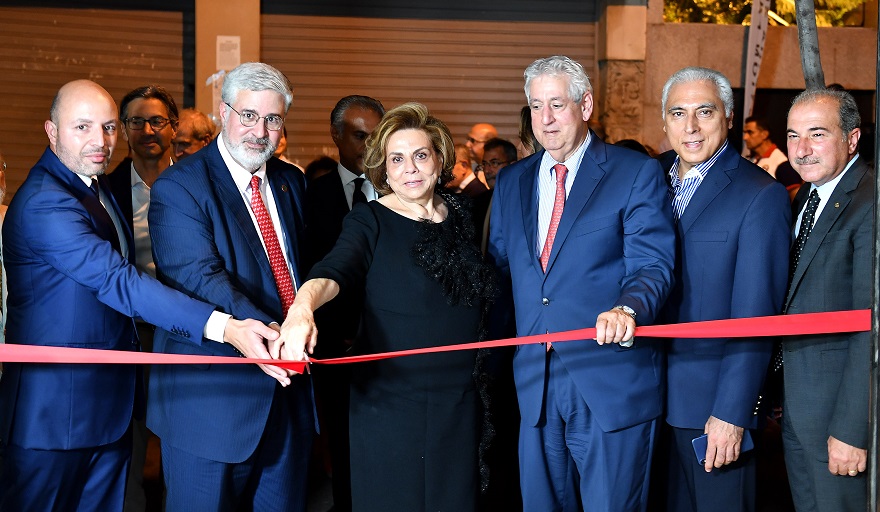 The Talal and Madiha Zein AUB Innovation Park inspires, enables, and connects
The American University of Beirut (AUB) celebrated the inauguration of the Talal and Madiha Zein AUB Innovation Park (AUB-iPark) on September 2, 2019. The establishment of AUB-iPark was made possible by the establishment of a major endowment funded by the Zein family. During a ceremony at Beirut Digital District (BDD) to mark the occasion, AUB President Fadlo R. Khuri thanked the Zein family, BDD CEO and AUB alumnus Mouhamad Rabah, AUBMC Deputy ​Executive Vice President Ziyad Ghazzal, and OSB Professor and AUB-iPark Executive Director Salim Chahine for their support for the initiative. Board of Trustees Chairman Philip S. Khoury, members of the AUB Board of Trustees, and senior AUB officials were among the distinguished guests at what Khuri described as "a landmark occasion in the history of our university."
Chahine explained that "AUB-iPark would be a place where professors, students, and alumni from all AUB faculties will be able to meet, learn, exchange ideas, and receive support to launch and scale up their ventures"​. He spoke about the important role that AUB-iPark would play in contributing to the development of entrepreneurship education and the cultivation of an entrepreneurship culture at AUB by providing cross-disciplinary workshops, hackathons, courses, and support. The activities of AUB-iPark will be closely coordinated with other ongoing AUB initiatives that promote entrepreneurship at the university such as the Samih Darwazah Center for Innovation Management and Entrepreneurship at the Suliman S. Olayan School of Business, the undergraduate track in entrepreneurship at the Maroun Semaan Faculty of Engineering and Architecture,​ and AUB's Center for Research and Innovation (CRInn). "We all work closely together," explained Chahine, "and will continue to do so to make the iPark a space that inspires, enables, and connects students, faculty, and alumni from throughout the university."
Rabah described the evolution of BDD from the time it was launched exactly seven years ago, on September 2, 2012, to the place it is today: home to 1,500 people from 135 companies. He noted that almost 50 percent of the people at BDD today are women. Rabah spoke passionately about the vision that he, and his late father-in-law, Talal Zein, had for BDD and the important role that it could play by making Lebanon a beacon for the Middle East.
In his addre​ss, Khuri noted that less than 5 percent of young people from the Arab world who leave the region for work or education return to their home countries, the lowest percentage in the world. He described the importance of initiatives such as AUB-iPark that will pave the way for a future "where individuals don't have to emigrate to innovate." The Talal and Madiha Zein AUB Innovation Park will be a place, Khuri continued, "where our students and graduates will be encouraged and supported to innovate and experiment, to develop ideas that enrich their lives—and the lives of their communities and all of us who live and work here."
One of the highlights of the inauguration on Monday evening was the screening of a film about the late Talal Zein. The film covered not just the highlights of Zein's extraordinary professional career, but also his strong partnership with his wife, Madiha Zein, and his abiding dedication to his community, Lebanon. In his introduction, Director Karim Rahbani spoke about what it had been like to work on the film. He said that everyone he had spoken to—even Talal Zein's competitors—had nothing but praise for him. ​
The event concluded with the ribbon cutting and a tour of the new facility.
Back to Events