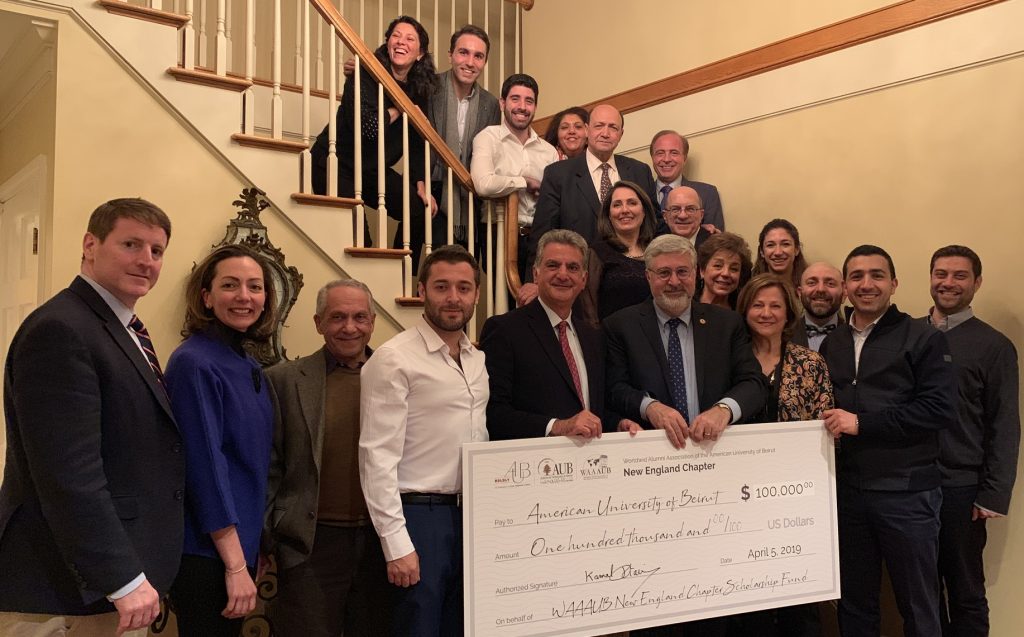 A TRADITION OF HOSPITALITY AND STRONG ENGAGEMENT WITH AUB
April 17, 2019
It all began, says New England Chapter (NEC) President Kamal Itani (BS '81, MD '85), with Dr. Mohamad (BS '65, MD '69) and Mrs. Maggie Saab (DIPL '65). "Soon after they arrived in the Boston area in 1976, they started hosting faculty, friends, and students at their home. Some of these people came just for dinner. Others stayed for days—sometime even weeks." Dr. and Mrs. Saab also welcomed AUB presidents beginning a tradition that has continued to this day. In early April, Dr. and Mrs. Gheed Itani hosted a dinner in honor of President Fadlo R. Khuri.
The AUB community in New England has grown considerably over the years—from about 100 when the chapter was established in 1982 to over 400 today. Many of the alumni who have led the New England Chapter played leadership roles in the AUB Alumni Association of North America (AANA), which existed until the Worldwide Alumni Association of AUB (WAAAUB) was established. The late Dr Shukri Khuri (BS '64, MD '68), for example, was president of AANA. Other NEC members have returned to their alma mater including Executive Vice President for Medicine and Global Strategy Mohamed H. Sayegh (BS '80, MD 84).
Itani and his colleagues are rightly proud of the chapter's strong involvement with AUB over the years noting that the New England Chapter responded quickly to begin fundraising to rebuild College Hall after it was bombed in 1991. Chapter members have also contributed generously—both individually and by supporting chapter initiatives—for the renovation of West Hall and to support many named scholarships. Earlier this month, the chapter presented AUB with a check for $100,000 to establish the New England Chapter Scholarship Fund.
"We all feel a connection to AUB—and to Lebanon through AUB," says Itani. "Many of us came to the New England area during or immediately after the Lebanese civil war. At a time when war was raging in Lebanon, we were somewhat protected on campus and were able to carry on a semblance of normal life on a beautiful campus despite the outside world falling apart. We received a superb education and made many friends and connections with prominent alumni." Although the AUB experience of recent AUB graduates is very different, Itani says all NEC alumni "feel indebted to AUB for what it gave us. Whenever we come together for a particular project or event, we bring those memories with us."
One of the projects that brought NEC members together recently was the North American Healthcare Initiative (NAHI), an electronic platform to connect medical students and residents with more senior alumni. Two NEC members, Dr. Akl Fahed (BS '06, MD '10) and Dr. Haytham Kaafarani (BS '99, MD '03), worked especially closely with AUB's Alumni Relations Office to launch NAHI in February 2018. "The New England Chapter championed this initiative from the beginning," says Executive Director of Alumni Relations in North America Eva Klimas. "They were great to work with." Itani says that "working and giving together as a community, encouraging diversity, networking, and mentoring the next generation is the best way we can support AUB. It also makes us a much stronger chapter."
You'll find a list of current AUB alumni chapters here.