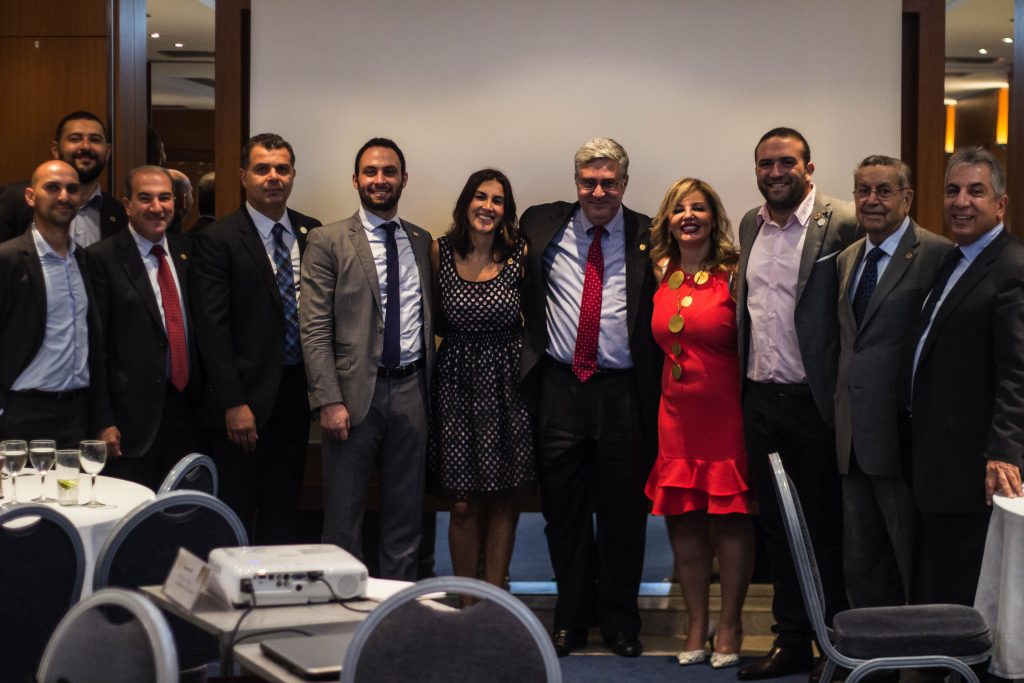 AUB ALUMNI IN THE IVORY COAST: FEELING A GREAT SENSE OF BELONGING AND LOYALTY TO AUB
February 27, 2019
It's one of AUB's newest alumni chapters. It's also one of only three alumni chapters in Africa. (There are also alumni chapters in Sudan and Nigeria.) Setting it up was Khalil Khraibani's (BBA '09) idea. "It's something I have wanted to do since I arrived in Ivory Coast in 2011," remembers Khalil. President Fadlo R. Khuri led a high-profile delegation to the Ivory Coast in October 2017, and again in October 2018, that met with chapter members and also with senior government officials in Ivory Coast.
The Ivory Coast Chapter has around 50 members—all Lebanese who have managed to navigate what Khalil describes as "the harsh conditions of life in the last century in Ivory Coast" and build successful businesses in real estate, cosmetics, building materials, food and beverages, manufacturing, art, gas production, architecture, finance, etc. "Some of us are great success stories," says Khalil. "All of us feel a great sense of belonging and loyalty to AUB." In his remarks to AUB alumni at a gala dinner in October 2017, President Khuri stressed how important it is to AUB that its alumni stay connected in this way. "Our graduates carry the values and spirit of the university with them from Beirut to the world," he said.
Ivory Coast Chapter members have been generous contributors to AUB setting up an endowed scholarship fund within a year of the chapter's establishment. "The scholarships support students from the Ivory Coast or Lebanese students living in the Ivory Coast," explained Associate VP for Development and Alumni Relations Salma Oueida, who was a member of the delegation that traveled to Ivory Coast. The first scholarship recipient, Aya Grace Alto, joined AUB in spring 2019. "Having terrific students like Aya at AUB helps increase the diversity of our student population, which is a priority for AUB. It is also something our alumni wanted to do to 'give back' to the Ivory Coast."
There is a large Lebanese diaspora community in West Africa—by some estimates as many as 250,000 people. That's just one of the reasons that AUB is planning to increase its presence in that part of the world. "There are enormous opportunities for AUB and universities in west and east Africa to work together to improve rural livelihoods in the drylands. Doing this is a priority for us and for them," explains FAFS Dean Rohi Mohtar. "Our alumni chapters provide invaluable support to AUB," says VP for Advancement Imad B. Baalbaki. "They partner with the university everywhere. The guidance and contacts of AUB alumni and friends is especially valuable in places like west Africa where AUB has not historically been very active."
AUB is also raising its profile in other places where it has not been very active in the past like the Asia Pacific and Latin America. It's all part of President Khuri's vision to make AUB "a globally high-impact university."
You'll find a list of current AUB alumni chapters here.