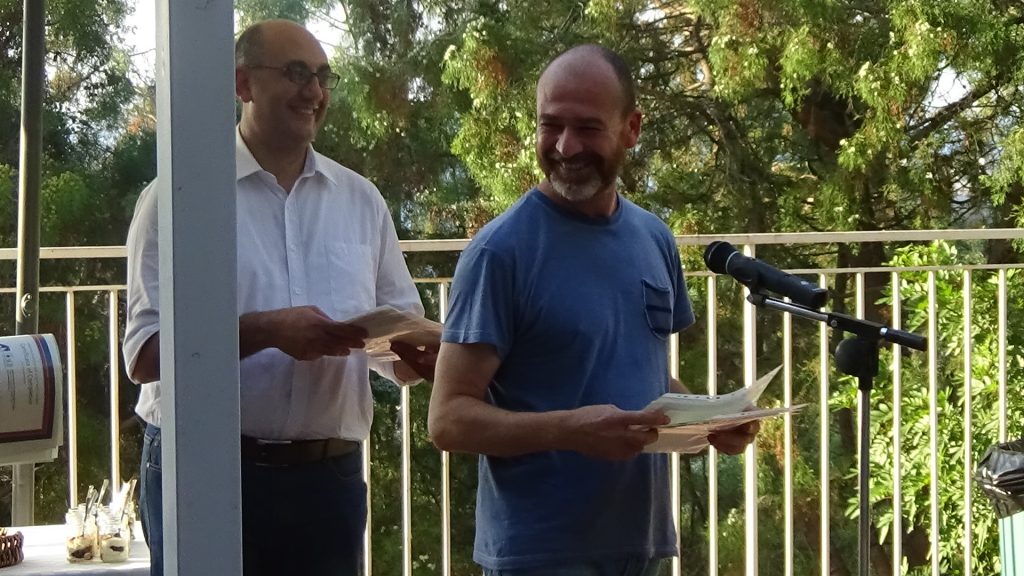 MAKING AUB A REGIONAL HUB FOR TRAINING FOR ENGAGED CITIZENSHIP
January 30, 2019
"I think it is not only important, it's urgent, that there be a place like the Asfari Institute that organizes workshops like this to reach even more activists in different countries," says Waseem Al Sakhleh. Waseem is a Syrian journalist and NGO activist who is especially interested in issues of family planning, working with homeless street children, religious and community dialogues, community participation, and public affairs. He recently participated in an Arab Social Activism Program (ASAP) workshop, just one of many initiatives that the Asfari Institute organizes throughout the year to support and engage civil society in the Arab world. (The Asfari Institute also organizes workshops and training courses for media professionals and for young Syrian, Palestinian, and Lebanese students who are interested in cultural production.) The two-week workshop in summer 2018 attracted young activists between the ages of 24 and 40 from six countries in the Arab world (Egypt, Lebanon, Libya, Morocco, Syria, Tunisia, and Yemen).
"The goal of these workshops—and of the other things we do," explains Dr. Dina El Khawaga, who directs AUB's Asfari Institute for Civil Society and Citizenship, "is to link activists with each other, to help them break through their isolation while at the same time providing them with some of the skills they need to be more effective." Waseem says that the workshop was successful on both counts. "I was surprised to discover that we are not alone," he says. "I felt support after periods of frustration. There are many activists working on the same issues. We had a chance to share our concerns and experiences in a supportive and friendly environment." Mai Tarek, who works on issues related to refugees and gender-based violence has spent a lot of time in recent years reflecting on what happened—and didn't happen—in the Arab world since the Arab spring. She notes that the situation in each country is different. Despite this, she says, "we have a lot to learn from each other about the reasons for our failures and best practices that we might adopt to achieve our dream of change."
Noura Oulahri agrees. "The ASAP program was an opportunity for trainers and participants to share their experiences and to discuss the various problems and situations that we all face." Noura, who is a lawyer, works with associations and NGOs in Morocco on projects related to gender, sustainable development, and corruption. Both she and Waseem said that the session on how states manage their resources in the Arab world was especially interesting. Even Noura, who majored in economics and management, learned something: "I was shocked to discover that Egypt and Syria do not publish their budgets and so Egyptians and Syrians have no idea of the budgetary details of their countries," she says.
"We're pleased with the response to this workshop," says Dina. She says that the institute hopes to reach even more activists for future workshops. "One of our priorities is to engage with all of civil society, not just NGOs." Dina says that civil society is "instrumental" in the Arab world—and has an especially important role to play today.
The ASAP workshop is part of an Asfari Institute project called "The Arab Social Activism Observatory" that includes interviews with 40 activists each year ("to give faces to these young men and women," Dina explains); an annual report on social activism in the Arab world; a summer school for mid-career people working in civil society; and the ASAP workshops and reading materials. "We want to make AUB a regional hub for training for engaged citizenship," says Dina. "It is a role that only AUB—with its liberal arts tradition and its location in Lebanon—can play."
The Asfari Institute for Civil Society and Citizenship at AUB was set up by the Asfari Foundation through a generous grant for program activities, renovation of its premises, and an endowment. The grant was recently increased to grow the endowment to ensure the long-term sustainability of the Asfari Institute. Through its research, education, and convening activities, it supports the development of an informed and engaged citizenry and of increased openness, transparency, and accountability at all levels of Arab associational life.