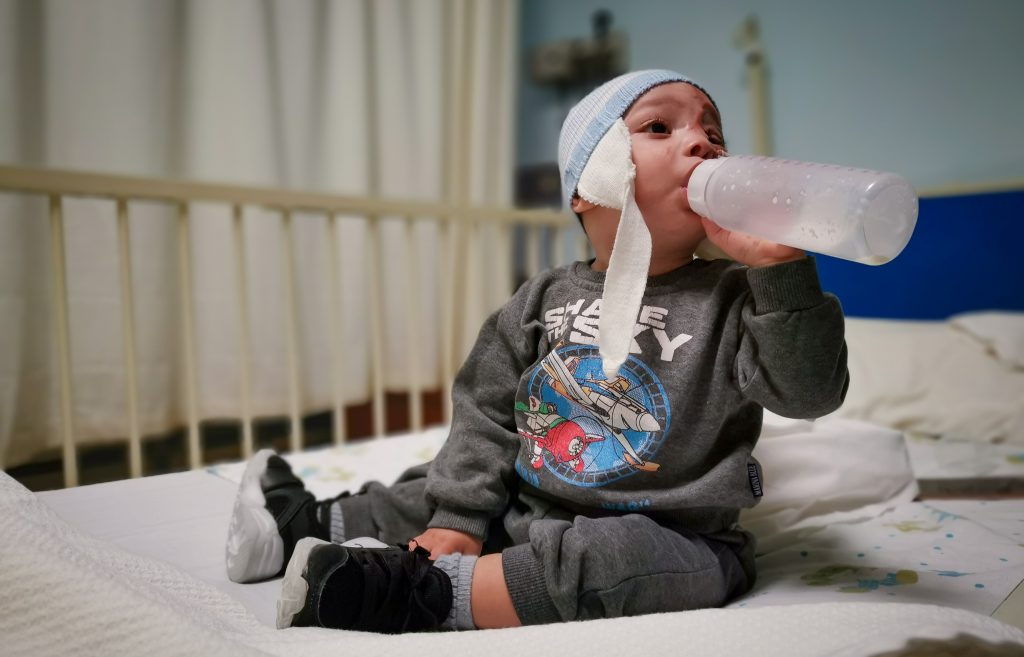 PROVIDING MEDICAL CARE FOR CHILDREN FROM WAR ZONES AND REFUGEE CAMPS
April 2, 2019
He takes a photo of himself with a cellphone, then bursts into laughter. It's infectious. You can't help but laugh as you share the joy of a two-year-old child who, until quite recently, was having a hard time opening and closing his eyes. Rafik was sound asleep when his room burst into flames—the result of a nearby explosion. He is able to see today because of the surgery he received at the AUB Medical Center (AUBMC) in December 2018.
For three-month-old Azouz, it was not war, but a tragic household accident caused by electrical sparks in the kitchen that left him with extensive burns. Although his family was able to get him the immediate medical attention he needed, he was still in a lot of pain. Azouz was referred to AUBMC where he saw Dr. Salim Saba who determined that if he got the surgery he needed, he would be in a lot less pain—perhaps even pain-free.
Rafik and Azouz are two of the 151 children living in war zones and refugee camps who have received urgently needed medical care at AUBMC since May 2015 thanks to its partnership with the International Network of Aid, Relief and Assistance (INARA). The heart of this partnership is INARA, the organization that CNN Senior International Correspondent Arwa Damon established in 2015. It was, as she explained in a story she wrote for the CNN website in June 2016, "a personal obligation, the only way I knew to do something that would actually make a tangible difference to try to alter the wrongs." From the beginning, INARA has focused on helping children like Rafik and Azouz who have, says Damon, "fallen through the cracks."
Unfortunately, there are many children who are not able to get the treatment they urgently need according to Dr. Ghassan Abu-Sitta. The head of the Division of Plastic Surgery at AUBMC's Department of Surgery, Abu-Sitta is also a member of the board of INARA. "We are working to expand our medical capacity to conduct as many surgeries as possible," he says.
"Community outreach is a core component of the university's BOLDLY AUB campaign," explained Vice President for Advancement Imad B. Baalbaki. "This partnership with INARA is one of many partnerships that is fueled by generous donors who contribute funds, our doctors, nurses, and medical staff who donate their skills and time, and volunteers who also give generously of their time—and their seemingly unlimited energy and enthusiasm."