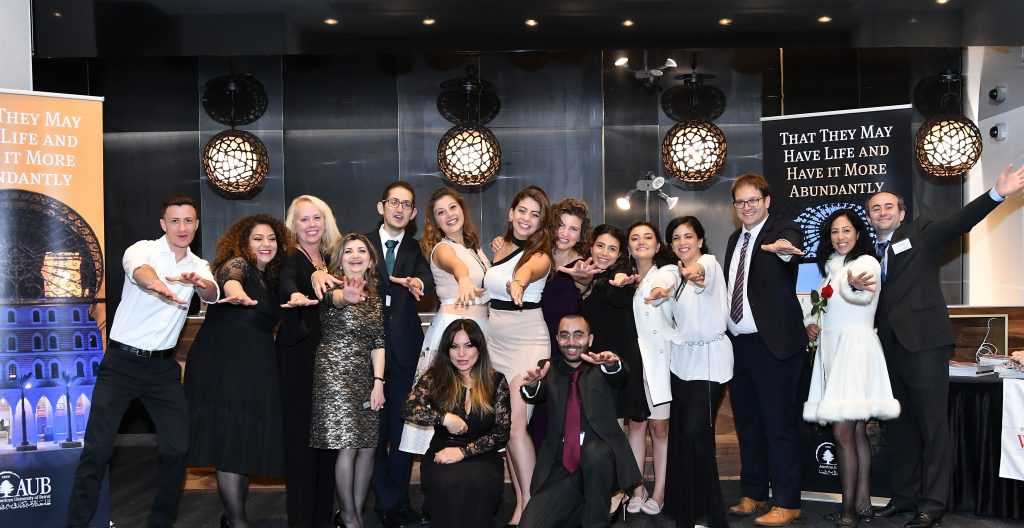 THE MONTREAL CHAPTER: HOSTING REGIONAL SUMMITS, OFFERING A HELPING HAND TO YOUNG ALUMNI
March 12, 2019
"I wish so much that I had known there was an alumni chapter in Montreal when I arrived," says Dina Saleh. "It would have made things so much easier for me." Dina Saleh (BS '12, MS '14) is one of an estimated 700 AUB alumni who live in the Montreal area. They are part of a large and well-established Lebanese community in Canada. Many alumni arrive in Montreal to attend McGill or Concordia universities; others are attracted by the employment opportunities in the city's thriving healthcare, engineering, business and finance, and AI sectors.
Outgoing Chapter President Johnny El Hage (BBA '05, MHRM '15) and incoming President Dr. Wissal El-Assaad (BS '93), PhD, agree that it is their common backgrounds and shared values that prompt many AUB alumni to get involved with the chapter. "We organize a wide range of events including meet & greet networking events to help especially young alumni with their careers, but also fun activities as well such as picnics and game nights," says El-Assaad. The Montreal Chapter organized the inaugural mentoring/networking event for the AUB Alumni Mentoring Platform in February 2018. Chapter members also get together to attend cultural events. She explains that the chapter is now in the process of "transitioning to a new mandate" and has organized several events to encourage alumni to come forward and share their ideas. "We want to hear from our members about what their priorities are," explains El-Assaad.
El Hage says that the chapter has been especially helpful to young alumni like Dina Saleh. "It is not easy to settle in a new place," says El Hage. "Our alumni have valuable knowledge that they are willing to share. We all support each other. AUB needs to do more to get the word out to students that there are alumni chapters out there that can help them." El-Assaad says that the chapter would like to help AUB financially as well—perhaps by establishing a scholarship fund. "We are not a wealthy community though," she says, "so this will take some time."
It is not just alumni who participate in chapter events. So too do many members of the Lebanese community in Montreal. "We have an especially close relationship with the Lebanese Consulate in Montreal," explains El Hage. "We support each other and sometimes organize social gatherings together."
In October 2018, alumni from as far away as Houston and Orlando traveled to Montreal to participate in the North American Regional Summit. What prompted the chapter to apply to be the host city for this three-day gathering? "I think it was a sense of excitement," remembers El-Assaad. "We are a close-knit and active group and thought this was something we wanted to do." She says that the event was a great opportunity to meet alumni from other chapters. "There is a lot we can do to support each other," she says. "The Montreal Chapter's careful planning and thorough outreach to the extensive Montreal community of alumni and friends yielded a first-class weekend and set the bar high on developing links with AUB academic and senior leadership representatives, as well as with their fellow chapter leadership across the US and Canada," says Eva Klimas, executive director of alumni relations. "AUB has an invaluable partner in our Montreal alumni chapter and community."
You'll find a list of current AUB alumni chapters here.