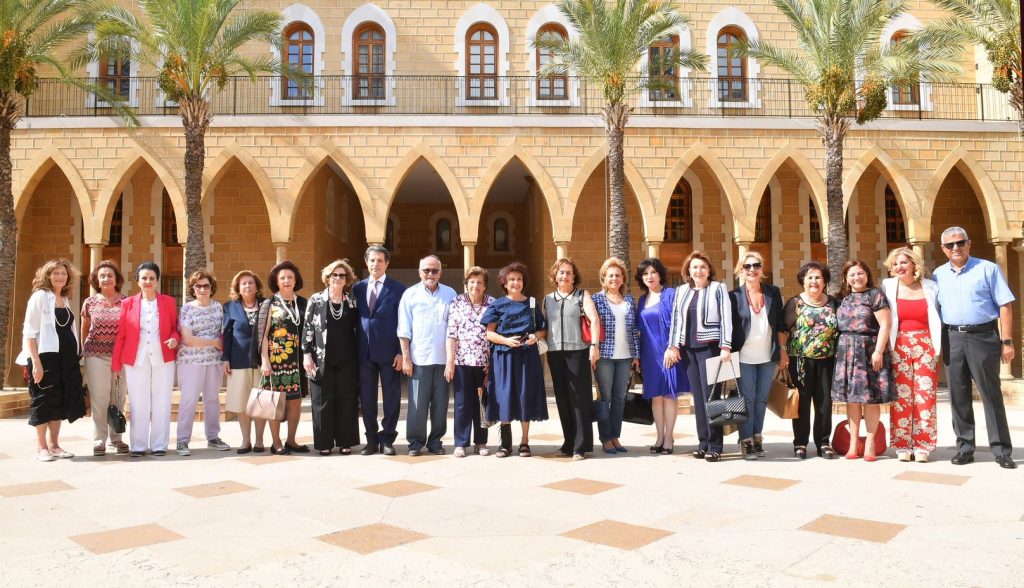 THE PRESIDENT'S CLUB: IMPACTING STUDENT LIFE ON CAMPUS—AND MORE!
March 21, 2019
"Where do I begin?" asks University Sports Director Ghaleb Halimi. "The President's Club made it possible for us to upgrade the Nadim Khalaf Tennis Courts and install a completely new lighting system in 2004. Ten years later, in 2014, they helped us once again by providing funding for the expansion of the heavily-used fitness area in the Charles Hostler Student Center and some needed repairs to the tennis courts. We are so grateful for their support."
Natalia Wehbi is one of the many students on campus who enjoys the upgraded fitness facilities at the Hostler Center: "Sports provides a healthy outlet for students who are often stressed about courses and studying. These facilities also promote health and fitness and encourage students to adopt a healthy lifestyle. It is especially wonderful to have these facilities on campus where they are accessible to students who often have hectic schedules," she says. Rimah Al Aridi, a master's student in mechanical engineering, agrees. "I've heard from students who used the Hostler Center before the expansion in 2014 about how there used to be a waiting list at the gym," he says. "We now have the luxury of being able to use the gym without making a reservation."
The impact of the President's Club can be felt not just in the upgraded sports facilities on campus. "They support so many projects, always looking for ways to help," says Associate Vice President for Development and Alumni Relations Salma Oueida. "Many people have no idea about how much they do—and have been doing this since 1981." In his remarks during the President' Club Gala Dinner in September 2018:, President Khuri observed, "Yes, the President's Club is special—not just for its outstanding service and generosity towards AUB, but because the club was conceived in the darkest times to help the institution withstand its toughest challenges during the Lebanese civil war." He went on to laud club members "whose appreciation of AUB's educational role remained strong and whose determination that it must survive and thrive has never wavered."
In just the last couple of years, the President's Club has provided funds to renovate the research lab in the Department of Psychology; supported four performances by the Zaki Nassif Arabic Music Ensemble; sponsored the Maroun Semaan Faculty of Engineering and Architecture's AUB Rocket Team; purchased and installed critical equipment for the Department of Fine Arts and Art History photography lab; provided funding for the AUB Choir and Choir Society; supported the Share the Flag project, which set a Guinness World Record for the largest notebook mosaic of any flag in the world; and sponsored the International Student Design Competition that the AUB Botanic Garden Committee (AUBotanic) organized in June 2018 to propose a new look for the Ada Dodge Garden on campus. "It is hard to think of a volunteer group that has had a greater impact at AUB," says VP Imad Baalbaki. "They are true partners of AUB, always looking for ways to help."
The President's Club also provided funding that enabled Natasha Gasparian to travel to Berlin to see the Parapolitics: Cultural Freedom and the Cold War exhibition and participate in a conference hosted by Haus der Kulturen der Welt. "While being a student at AUB affords me a wealth of resources, the opportunity to see an archival exhibition closely linked to my research interests, and to hear a range of prominent scholars and curators of art present their work was a first step to navigating the academic world as an aspiring art historian. It is thanks to the funds I received from the AUB President's Club that I could pursue these interests," says Natasha.
What's next? "There is no shortage of good projects to fund," says President's Club President Eugenie Hosri, noting that the renovation of the reference room in the library, another club project, will start this summer. "We work closely with the administration and President Khuri to identify priorities and then work hard to raise the funds that are needed. We rely heavily on our terrific volunteer members who give so generously of their time—and financially as well."