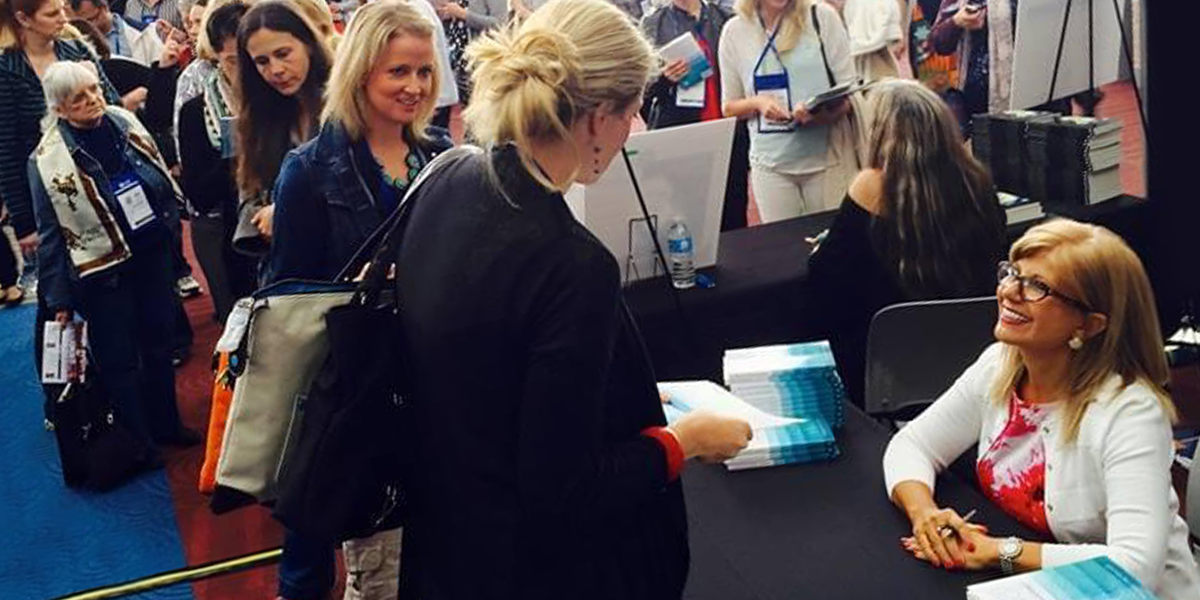 Micheline Nader – supporting women students at AUB
July 19, 2022
Micheline Nader is a serial healthcare entrepreneur, best-selling author, and CEO of the Jesra Foundation. She holds a bachelor of science in nursing (BSN) and a master's in public health (MPH) from AUB and a doctoral degree in healthcare management (DESS) from Paris-Dauphine University. The author of the best-selling book in personal empowerment, The Dolphin's Dance, and a forthcoming book on leadership development, Leap Beyond Success: How Leaders Evolve, Micheline is also an active philanthropist through her family's Jesra Foundation that focuses on education, leadership, and health. Through her writings, workshops, and speaking engagements, Micheline creates value for individuals and organizations with a focus on personal development, leadership growth, and cultural transformation.
Micheline says that her leadership journey began at AUB. "Every experience in life is there to teach us and an opportunity to learn," she explains. As Micheline knows too well, some of those experiences can also be challenging. She has especially powerful memories of one such experience that took place during the height of the Lebanese Civil War. "I remember the sound of sirens, the cacophony of shattering glass and splintering wood – and then the phone rang." It was a call from AUBMC telling Micheline that they wanted her to interview for the position of assistant director. "I was stunned – and wondered if I was dreaming," she says. "Then I heard the voice again. 'Congratulations.' Surely there had been a mistake? After all, I had just graduated from the MPH program a week earlier. But no, it was not a mistake. This prestigious institution really was recruiting me for a leadership role. Accepting that role would throw me into one of the most challenging positions I've ever taken on." Even now, years later, the memory is very vivid.
"It was my 'baptism by fire,'" says Micheline. "I was just 23 years old and was selected over other candidates who were much older and probably had more experience. I knew that I had to step up. I called on everything I had – the trust my father had always had in me, what I had learned while studying for my BSN and my MPH degrees." Micheline needed all that and more during her three years at AUH (as AUBMC was called then). With a heavy heart, she left Lebanon shortly after an especially harrowing incident at the hospital. "I was held at gun point by someone whose cousin was being operated on and told, 'if my cousin dies, you die too.' I was very pregnant at the time. I managed to convince him to put down his gun and sailed through the situation unscathed. The war continued to ravage different parts of the city and we decided to leave the country a few months after our son was born. It was 1981."
Micheline's life journey took her next to France, where she worked at the American Hospital of Paris, taught hospital management at the École Supérieure de Commerce de Paris and completed a DESS in healthcare management at University Paris-Dauphine. The next stop was Canada where she developed two long-term care facilities; and, finally, to the US where she has lived since 1994.
A healthcare entrepreneur, Micheline founded the Blue Dolphin Healthcare Group, a chain of skilled nursing homes facilities, which she built and managed for 15 years. She later sold the company to a publicly traded healthcare group.
Looking back, Micheline says that she owes a lot to AUB. "My studies at AUB and my experience at the hospital helped me discover – at a very young age – the leader I was born to become," she says. "The road we follow in life is not always a steady progression of promotions over the course of a career or lifetime. Sometimes leadership is thrust upon us unexpectedly, and we rise to meet it."
Micheline says that it was at AUB that she learned to be independent and to take responsibility. It was also at AUB that she was introduced to "a world of transitions, contrasts, and contradictions. You see it all at AUB."  Micheline is especially grateful for the freedom that she enjoyed at AUB as a woman – and is determined to make that opportunity available to other women as well. "I am convinced that our politics would be very different if there were more women involved in public life. For this to happen, we need to make it possible for more women to get an education," she says. Micheline is doing her part. She and her husband, Dr. François Nader, recently established the Micheline and Francois Nader Endowed Scholarship that benefits women students pursuing degrees in nursing or health sciences. "I encourage other AUB alumnae – and alumni – who are able to do so to also support women students at AUB."