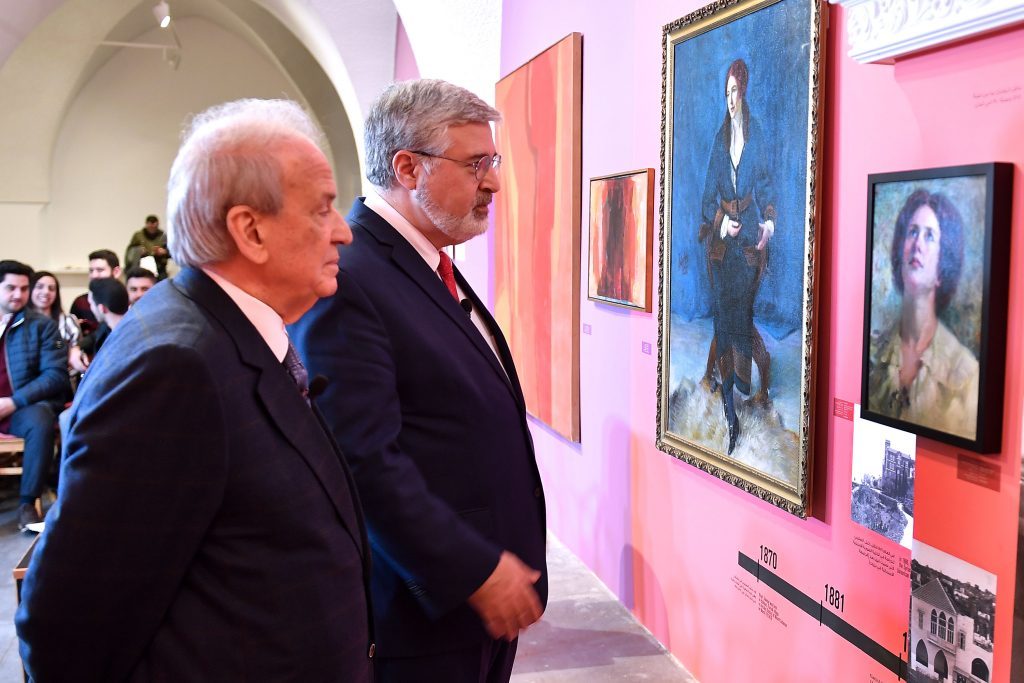 THE GIFT THAT CHANGED EVERYTHING
February 20, 2019
"The Saleeby gift changed everything," says Associate Professor of Art History Rico Franses. He goes on to explain that the bequest to AUB by Dr. Samir Saleeby (former student 1944-45) in 2011 triggered a series of events: the opening of the Rose and Shaheen Saleeby Museum, temporarily on Sidani Street, to display the collection (the collection will eventually be permanently placed in a prominent location on the AUB campus); the decision to hire an art curator; and the launch of a graduate degree program in art history and curating in 2017. Franses says that receiving the Saleeby donation also enhanced AUB's prestige in the art world. "AUB is plugged into the art scene in Beirut now in a way it has not been before. We work closely with the Sursock Museum, the Beirut Art Center, and Ashkal Alwan. We are each stronger because of the support we get from each other," he says.
The Saleeby collection includes more than 60 paintings by leading Lebanese artists including Khalil Saleeby (a distant relative of Samir Saleeby), Omar Onsi, Saliba Douaihy, and Cesar Gemayel. When asked in 2011 why he donated the collection to AUB, Saleeby explained that he had always wanted to keep the collection together and in Lebanon. It was also important to him that the paintings be taken care of by a "trusted and respected institution." He went on to say that "there was no better choice than the American University of Beirut."
It's a responsibility that AUB is ready and proud to assume. Franses points out that news of the Saleeby donation has prompted others including a major donation from Trustee Philippe Jabre and many inquiries. "We're very interested in receiving donations especially from prominent Lebanese or Arab artists," says Franses, "so we can provide our students and the public at large with the opportunity to examine artworks that reflect on a specific experience of time and place. This is one of our missions."
The Saleeby collection has been displayed in a series of well-attended exhibits in the gallery on Sidani Street over the years and can currently be seen as part of "The Permanent Collection Exhibition" which will continue until late summer 2019. Individual pieces from the collection have also been used in some of the courses that Franses and his colleagues in the Department of Fine Arts and Art History teach. There are currently 30 students enrolled in the undergraduate programs in art history and studio arts and the master's program in art history and curating. Many more students take art classes each term. Two AUB students, Katharine Gordon and Lama El Khatib, curated a recent exhibit at AUB of artist David Kurani, an AUB alumnus who joined the AUB faculty in 1968. "An opportunity like this—to curate an exhibit under the guidance of a professional curator while pursuing an academic degree is invaluable—and would not have been possible without this donation," says Franses.